Choosing the right eCommerce platform for your business can be a difficult task due to the vast array of platforms available. Our experts at Nublue and CTI Digital, with over 30 years of eCommerce industry experience, have created a comprehensive summary of four major eCommerce players.

Ahead of Magento 1 end of life in June 2020, this guide also aims to help Magento 1 merchants decide which eCommerce platform is most appropriate for their business. There isn't long left to conduct a full migration to ensure your store remains secure and competitive.
The platforms
This guide will discuss 4 eCommerce platforms that cover a variety of eCommerce needs; Magento 2, Shopware, Shopify and BigCommerce.
Magento 2
Overview of the platform
Having worked with Magento since their beginnings, we've seen it evolve and flourish into a world leading platform. Part of the Adobe Experience Cloud, it's one of the most well-known eCommerce platforms on the international market and adopted widely due to its scalability and security.
Released in November 2015, Magento 2 is supported by a global community of over 200,000+ active developers worldwide. Compared to Magento 1, the latest 2.3 version provides faster load speeds, improved user experience and a frictionless checkout process.

Technical Features
Magento uses a mature tech-stack with a much steeper learning curve to implement compared to other more refined platforms. This is due to the amalgamation of Zend/Symfony in the base framework.
Magento is available on an open source framework, meaning it's biggest cost is the development. It is also available as a licenced 'Magento Commerce' service. This version provides powerful out of the box capabilities and ready to go extensions meaning a much faster time to market, but does have increased licencing and development fees.
Stand-Out Features for Merchant & Business Owners
Magento does however have a rich extension market that developers from the community can contribute to, allowing quick addition of highly customisable features to any store. This includes: multi-site support, flexible promotions, merchandising, and integration with payment gateways, such as PayPal, Braintree and more.
It also has a more advanced suite of conversion-optimised features in comparison to other platforms, making updates quicker and more efficient to deliver a great customer experience from the first click to parcel delivery. 
When it comes to migrating platforms, Magento 2 makes it easier to migrate from Magento 1 with fit-for-purpose tools available that ensure the process occurs as seamlessly as possible.
Who is Magento 2 ideal for?
Magento 2 is ideal for enterprise merchants who want to create unique and engaging shopping experiences. These can be achieved through the powerful out of the box capabilities Magento has to offer, especially if you want to migrate from Magento 1.
With a combined 30+ years of eCommerce experience and the expert knowledge that comes with working with a platform since its launch, get in touch with one of our experts at Nublue or CTI Digital to discuss your next eCommerce project in Magento 2.
Shopware
Overview of the platform
Shopware is well-known for dominating its native market in Germany, and is beginning to take the rest of the English-speaking market by storm. With the release of Shopware 6 and the plethora of new features like 'Shopping Experiences' and updated 'Sales Channels' out of the box, the growth this German eCommerce giant has seen can only increase.
Established in 2000 by two brothers, the company has 170 employees, over 80,000 installations and over 1200 partners. The intuitive CMS solution utilises a concept called 'Shopping Worlds' with drag and drop-ability of dynamic content and out of the box support for multi-warehouse, multi-store and currency. It also has a mature feature set of marketing tools such an affiliate program, loyalty program, abandoned cart, product catalogue and search and merchandise management. 
Shopware also has access to over 3,500 available extensions and supports a range of integrations including Stripe, PayPal, Mailchimp, MonkeyData and DHL to give your webstore a truly easy global reach.

Technical Features
The "API-first" methodology Shopware implements makes the platform easy to integrate with and a great centralized location to manage omni-channel transactions, or produce a headless solution. With its refined modern architecture based on the Symfony framework, picking up Shopware development is quick and easy and makes the feature-packed platform a breeze to develop on.
Stand-Out Features for Merchant & Business Owners
Shopware has lower Enterprise and support pricing compared to platforms like Magento and BigCommerce. Depending on your eCommerce needs, you can discover the variety of packages Shopware offers here.
However, Shopware is fairly new to the English-speaking market, meaning there is currently limited documentation, a less rich extension marketplace compared to Magento and reduced third-party support. 
Nonetheless, with well-known brands such as L'OREAL, Aston Martin and Jägermeister taking the dive into Shopware, the Shopware community is only set to grow over the coming years.
Who is Shopware ideal for?
If you're a merchant who wants to get ahead of their competitors and be at the forefront of 'headless' technology or a brand with a Story to tell through meaningful interactions, Shopware could be the eCommerce platform for you.
If you would like to work with the first Shopware 6 ready agency in the UK get in contact with one of Nublue's experts today.
Shopify
Overview of the platform
Shopify is a Canadian eCommerce company with over 800,000 merchant stores worldwide. As a "Software as a Service" (SaaS) platform they enable retailers to build, manage and grow their store all within the Shopify cloud platform, with no need to worry about hosting or the technical infrastructure behind it.
Shopify also enables retailers to sell on the web, on mobile, through social media, online marketplaces and physically in-store with the Shopify Point of Sale system.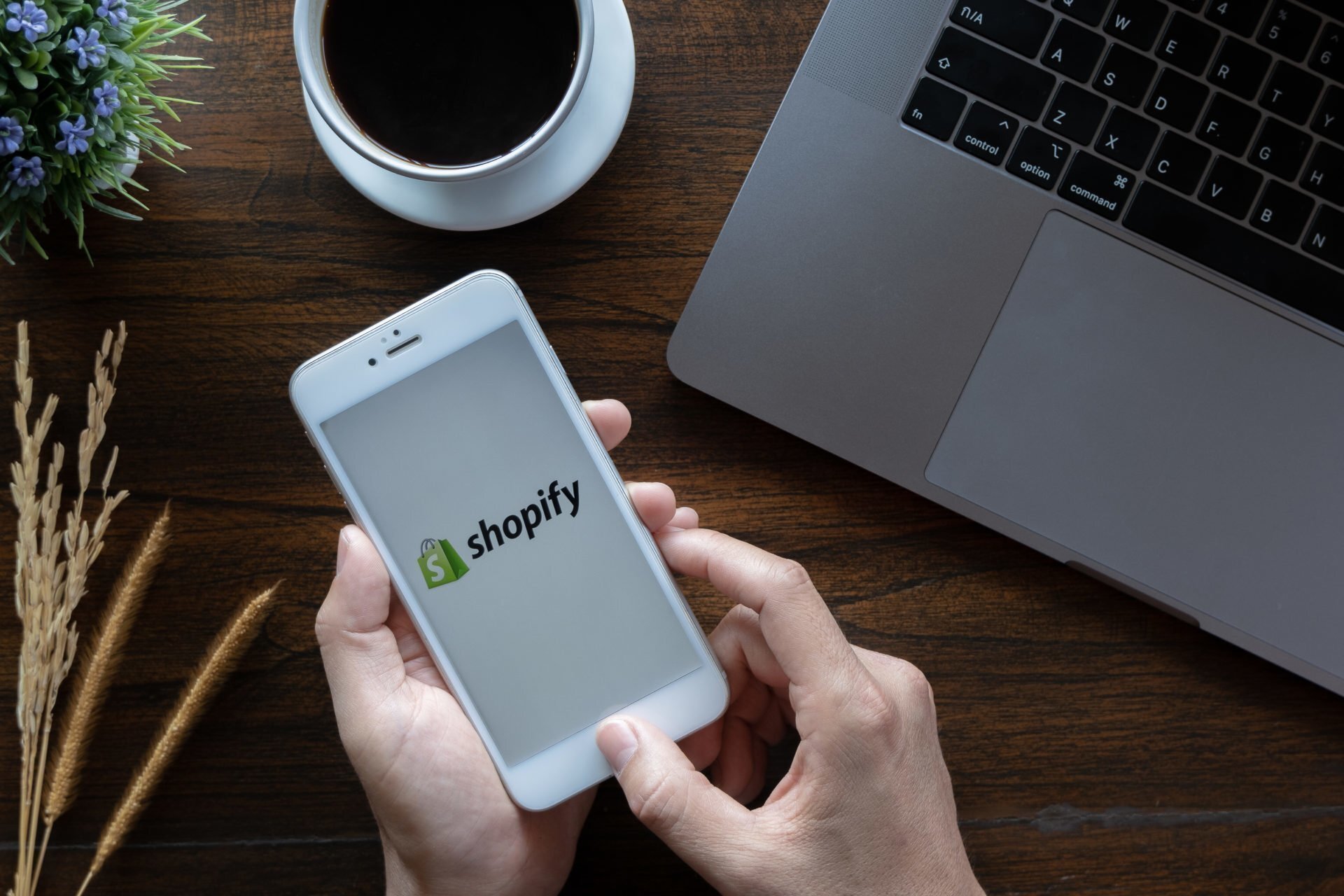 Technical Features
As a "Software as a Service" (SaaS) platform, your online store, domain, digital infrastructure, any operational integrations and hosting are managed by Shopify. This means you can spend your time focused on running your business, rather than being worried about your online stores performance.
However, unlike Shopware, Shopify does not have an open API, which means it's harder for developers to create bespoke features and integrations. If you require bespoke functionality you will need to purchase Apps through the Shopify marketplace. 
On the other hand, Shopify can support direct credit card payments through their service 'Shopify payments' and has its own 'Shopify Shipping' service that prints and manages shipping labels to make it easy for you to build your business.
Stand-Out Features for Merchant & Business Owners
Shopify supports most languages worldwide such as: English, Brazilian Portuguese, Danish, Dutch, Finnish, French, German, Hindi, Italian, Japanese, Korean, Malay, Norwegian, Simplified Chinese, Spanish, Swedish, Thai, and Traditional Chinese. This allows your Shopify store to have a truly global reach.
Shopify provides a complete eCommerce solution for retailers, from theme selection to shipping and payments. This gives merchants great control over their store without the need for a developer. The platform also comes with a granular analytics platform which gives you access to financial and customer reports to keep track of your web stores performance.
Who is Shopify ideal for?
Shopify is ideal for retailers looking to focus more on their product or instore offering, leaving the store to essentially run and manage itself. With services available for everything from pre-themed store fronts to drop-shipping, Shopify provides an all-encompassing service that can be difficult to personalise but is extremely quick to market.
If Shopify seems like your ideal eCommerce platform, get in contact with one of Nublue or CTI Digital's experts today.
BigCommerce
Overview of the platform
Founded in 2009, BigCommerce has grown quickly over the years and offers a modern approach to scalable commerce. As a Cloud-Hosted SaaS Commerce platform built for B2B and B2C merchants, it provides a secure and scalable platform with extensive customisation for specialised and differentiating retailers.
BigCommerce provides simple storefront design via HTML, CSS and Javascript and integrates with WordPress. It also manages the complex backend infrastructure and hosting to enable retailers to focus on advanced product management and improving storefront conversions.

Technical Features
BigCommerce are well-known for security and performance, featuring multiple security layers which deliver PCI DSS 3.1 Level 1 compliance. Combined with a best-in-class uptime of 99.99%  and DDos protection, BigCommerce ensures your customer and payment data is always protected. Along with the Google Cloud platform, Bigcommerce has enterprise level bandwidth and processing speed for a smooth shopping experience.
BigCommerce is also available as a 'headless' platform like Shopware. This means the front and back ends can be separated and managed by different systems. For example, you could take advantage of a flexible WordPress front-end while utilising BigCommerce's open back-end, or multiple back-ends for multi-brand or globally segmented operational management.
With an open API that has 90% of the platform data exposed to the API, BigCommerce is highly extensible and reactive to new technology. Through the open API, developers can build integrations or webhooks to push data between different systems quickly and securely.
Stand-Out Features for Merchant & Business Owners
BigCommerce provides a strong product management suite featuring customisation, Coupons & Discounts, and Merchandising. It also deals well with wholesale and B2B stores with extensive variant and quote management and extendable checkouts depending on the specific needs of your product and users.
Multi-language front ends and shopping in over 250 currencies is also all available within the BigCommerce payment platform. Merchants can also enable this across multi-channel selling online, on social media or in store.
Who is BigCommerce ideal for?
BigCommerce is ideal for scaling eCommerce businesses. As Bigcommerce is a SaaS, it is effective for merchants wishing to go to market in just 2 months and without the stress of hosting or complex product and payment integrations. 
Thanks to BigCommerce's open API, the platform is extremely flexible for retailers to then grow once at market. Businesses can extend their store without the need for a rebuild as new requirements arise. The open API also means retailers can take advantage of cutting edge technology, without waiting for the platform to release its own integration.
Overall, each platform has their own merits and downfalls depending on what you need from an eCommerce platform.
We've combined our greatest commerce minds from Nublue and CTI Digital, to create supercharged commerce, our commerce agency dedicated to making enterprise commerce accessible to smaller businesses.
If this summary has given you an idea of what platform you would like your webstore to migrate to, get in touch with an expert at Nublue or supercharged commerce, today.