We are pleased to bring you some exciting news about the future of Nublue. We have been acquired by and will be merging with the award-winning web development and full-service digital marketing agency CTI Digital.
We are looking forward to working alongside the range of experts that make up the CTI Digital family to bring our clients even more great eCommerce experiences and hosting solutions.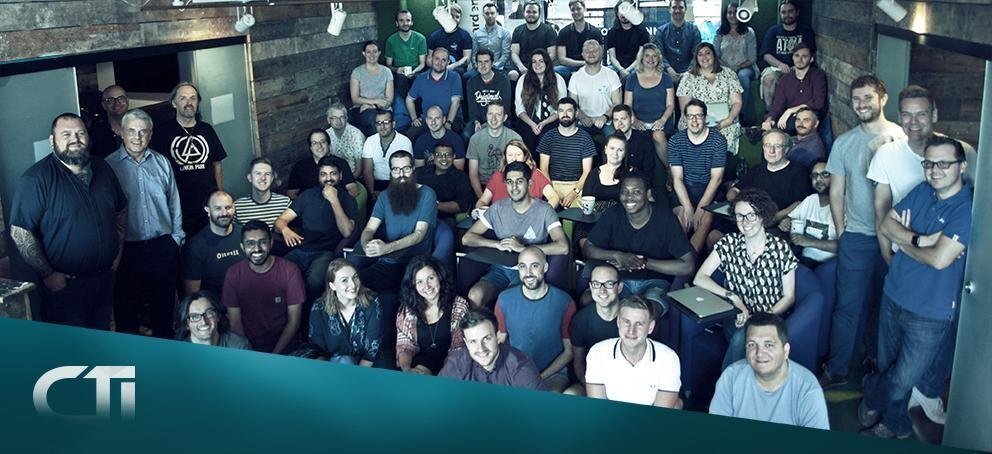 Nublue and CTI Digital: What's prompted the move?
Starting out as just two brothers with a dream back in 2005, Nublue have been continuously growing in eCommerce for nearly 15 years, constantly evolving and refining our craft and infrastructure. By specialising in eCommerce web design, development and hosting, specifically Magento since 2008, we have produced hundreds of beautiful online stores. Our specialist eCommerce hosting service has also expanded over the years, recently with the introduction of AWS, which has lead our clients to know us to have exceptional support and services.
By merging with CTI Digital, the growth we have seen can continue to flourish. It will allow us to keep pace with emerging markets by diversifying existing services and taking on new technologies such as Shopware and Shopify.
Over the past 6 months, we have been working carefully with CTI Digital to ensure the acquisition is right for our staff, for the future of our businesses, and most importantly, for our clients.
We want to provide our clients with the best experiences and we believe that, by bringing our organisations together, we can create a more complete and specialist service offering for all of our eCommerce and hosting clients, while you continue to receive the exceptional support and services you always have done.
'From our first meeting with Nick, it was very clear that our businesses had real synergy. We recognised the great opportunities that would be made possible by working together. Our shared ambition, along with the depth of knowledge and capabilities within our businesses, makes our future possibilities really very exciting. We're all looking forward to seeing what we can achieve collectively.' - Michael Ashworth, Managing Director at Nublue
So, what can you expect from Nublue now?
We're only at the beginning of our journey with CTI Digital but here are some of the most exciting benefits the partnership will bring:
Greater industry presence.

CTI Digital have been around for a little longer than us (starting up in 2003), however they have quickly grown to be an award-winning web development and full service digital marketing agency. The breadth and depth of their knowledge, which is utilised in both their Manchester and London offices, will allow us to create even more innovative eCommerce solutions for our clients.

Platform technology expansion.

We are known for our expertise in Magento, having worked with the platform since its release in 2008. However, with

Magento 1 end of life coming next June

and the competitive nature of the eCommerce market, we realised we needed to expand our platform offering. This is why we are now both Shopware and Shopify partners and are excited to utilise CTI Digital's knowledge of Drupal Commerce and BigCommerce. Together we will have the capability to be reactive to new frameworks and the capacity to provide an even greater offering for all of our clients.

Supercharged hosting.

By combining forces, our hosting offering can be even bigger and better than ever. Both Nublue and CTI Digital have a wealth of experience with

AWS cloud

and

physical hardware

hosting. This means it's now even easier for you to get your website securely optimised, online and on the cloud, backed up with the expert support you have come to expect from us over the years.

Combined industry knowledge

. Between the two agencies, we will have multiple clients within 20+ sectors of the retail industry. From manufacturing to fashion, our experts won't just have theoretical knowledge. They will have hands-on real-world knowledge of the respective market.

Plus a whole lot more. Both of our agencies client services and project management will be bolstered, we'll have a whole new location to service clients from. The list goes on!
'CTI has a superb reputation in the industry. Nublue is experiencing strong growth in the eCommerce space. Joining the CTI family at this time couldn't be more exciting and will significantly enhance the service we offer to our clients.' - Tom Ashworth, Technical Director at Nublue
How will this affect existing clients and partners?
As a client you will not be affected by the acquisition. You will still be working with Nublue and all of the Nublue team you have already had contact with as there are no structural changes being made to existing teams. Nublue is also going to remain its own brand, with its own identity and its own clients so you can expect us to continue to create the great eCommerce experiences and hosting solutions we have already started together.
This goes without saying for our strategic partners too. Our software and hosting partners are indispensable to the quality of service we offer our clients and so we will continue to work with and build our relationships with our network of partners.
Going forward…
This is an exciting time to begin working with Nublue and CTI Digital. Between us, we have a wealth of expertise delivering eCommerce for B2B and B2C organisations and providing bespoke hosting solutions.
If you're interested in working with either of our organisations please get in touch with one of our experts to begin discussing how we can help create the perfect eCommerce and hosting solution for your eCommerce store. Or you can check out our existing clients here.
'When we began negotiations with Nublue, we identified a striking strategic and cultural alignment. The team of experts Mike and Tom have built at Nublue are a credit to their knowledge and understanding of the eCommerce landscape. Collectively, we have a host of exciting projects ahead and this announcement is just the start. I'm extremely happy to welcome the Nublue team to the CTI family.' - Nick Rhind, CEO at CTI Digital