As a Nominet Accredited Channel Partner, Nublue are running a limited time promotion on .uk domains which gives you savings of over 75% from the normal price. We will be heavily discounting 2-year registrations of .uk family domains registered from the 1st of October to the 30th of November.
During this promotional period, any standard .uk domain (.uk, co.uk, org.uk, .me.uk) that is newly registered for a minimum of 2 years will cost significantly less for this initial 2 year period. A registration of a standard .uk domain for 2 years will cost you only £4 in total – less than a single year's registration. Register your domain here.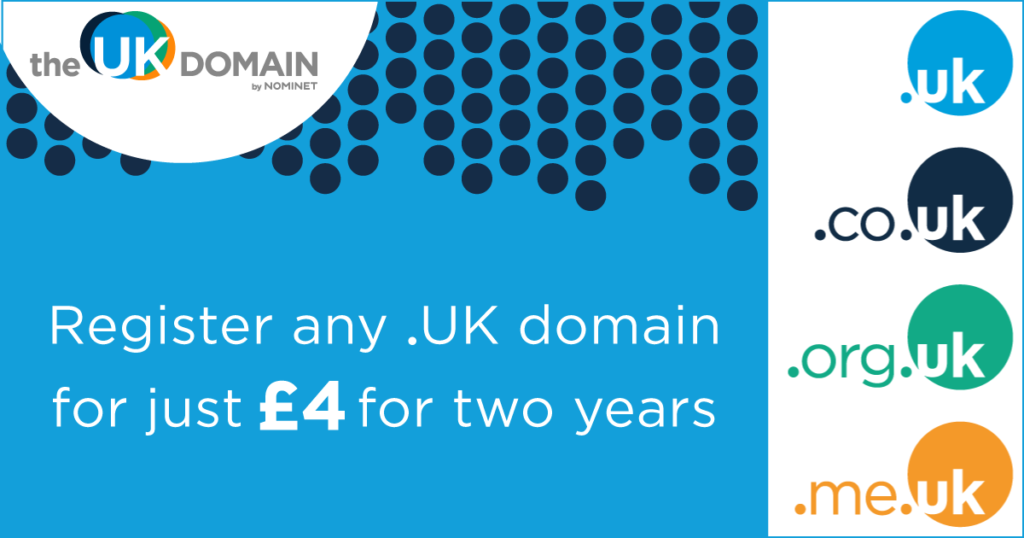 This promotion will affect registration costs for standard .uk domains with Nublue as follows (all prices are exclusive of VAT):
2 years – £4 (was £20)

3 years – £14 (was £30)

4 years – £24 (was £40)

5 years – £34 (was £50)

6 years – £44 (was £60)

7 years – £54 (was £70)

8 years – £64 (was £80)

9 years – £74 (was £90)

10 years – £84 (was £100)
Please note: this doesn't apply to existing domain renewals – and the promotional domains will renew at the normal price (£10 per year) once the initial 2-year period has ended.
We are temporarily removing the ability to register these domains for 1 year terms, however if you do wish to register one of these domains for 1 year, you can contact the Support team directly and they will be happy to help.
Register for your 2-year domain here today!