How to create a new e-mail account
This guide will show you how to add new email accounts to your website. E-mail hosting is included in all of our hosting packages as standard.
Pre-requisites
Before you can use Nublue's mail service, you'll need to ensure that you've done 2 things:
1) Mail service for your domain must be enabled in the Plesk Control Panel
2) Your domain's DNS records must be configured to point mail to your Nublue hosting
If you're unsure about how to do any of the above, please contact our Support team.
Adding a new account
Log into your Plesk Control Panel and select your domain from the Domains option in the left-hand sidebar.
Select the Mail tool to view your options for email service.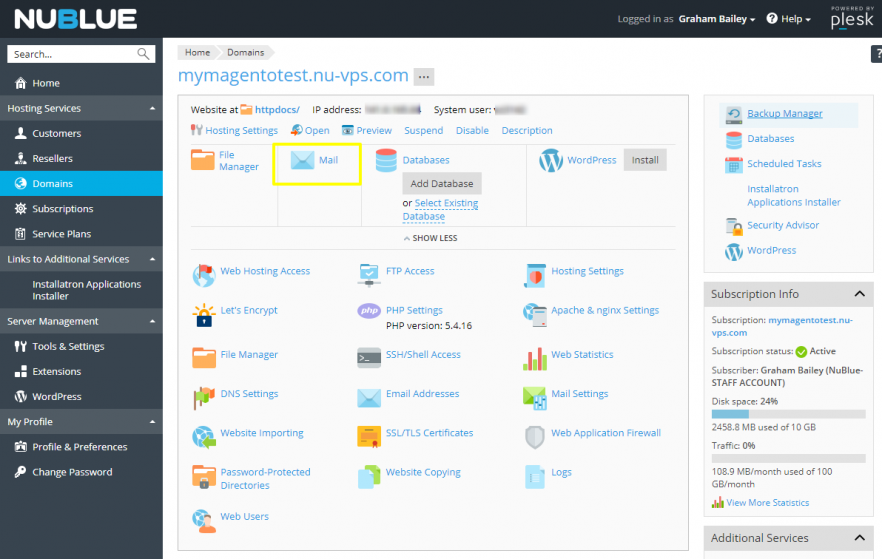 From this menu, you can use the Create Email Address button to add a new email account.
Simply type in your new email address and specify a password. You can use the Generate option to generate a secure, random password. You'll need to keep track of this password so that the end user can use it to access their new account.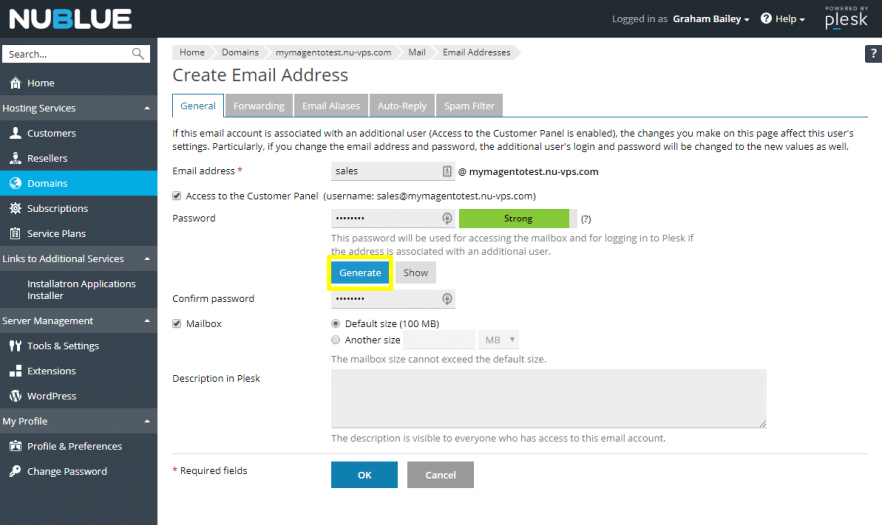 You could also consider un-checking the box for Access to the Customer Panel. If you leave this box checked, the email user you're about to create will also be able to log into your Plesk Panel. They will see a very restricted version of what you see and will only be able to make changes that relate to their email account, but you may not want them to have this access at all. If you do allow them this access, the changes they'll be able make with this access include:
• Updating the password for their email account
• Configuring mail forwarding
• Setting up an auto-reply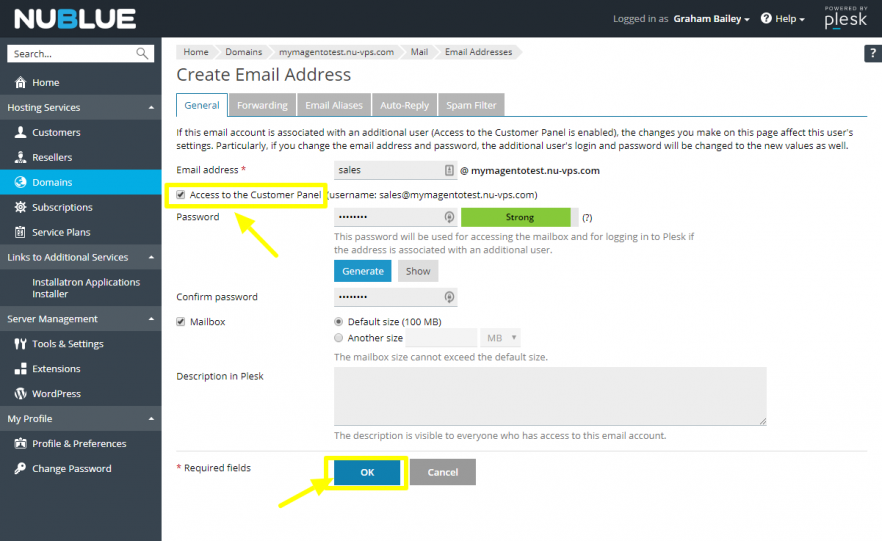 Click OK to create your new account.
Now that you've created your account, you can test that your email account works by visiting our webmail portal. You can enter your username and password to log in and send or receive email at any point. On the other hand, if you want to use your new email account on a desktop email client or a mobile device, please see our guide here.
Auto-responders
​To configure an auto-response to your email account, select your email account and browse to the Auto-Reply tab.

You can then check the box for Switch on auto-reply and proceed to create your message.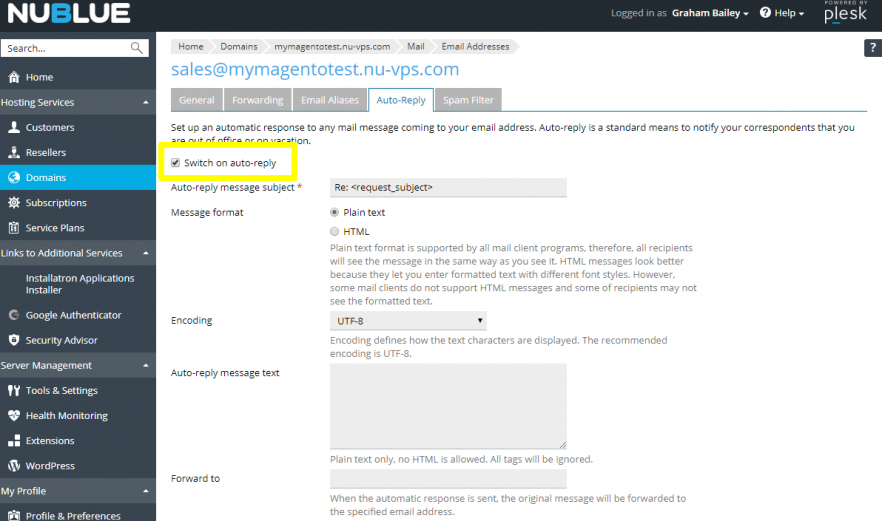 The message you want to send as an auto-response should be entered into the field for Auto-reply message text.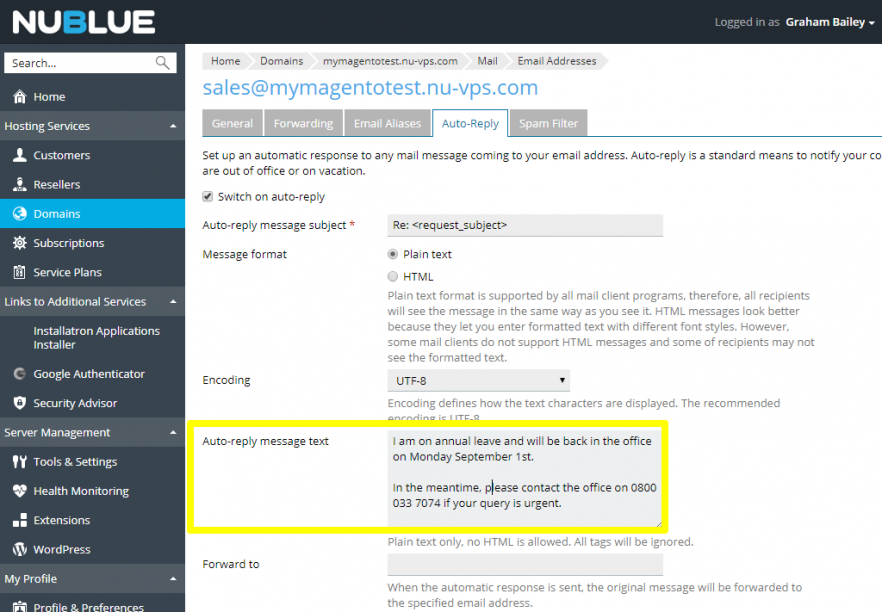 There's also an option to forward any mail to another address whilst the auto-responder is enabled . You can specify the address in the Forward to field.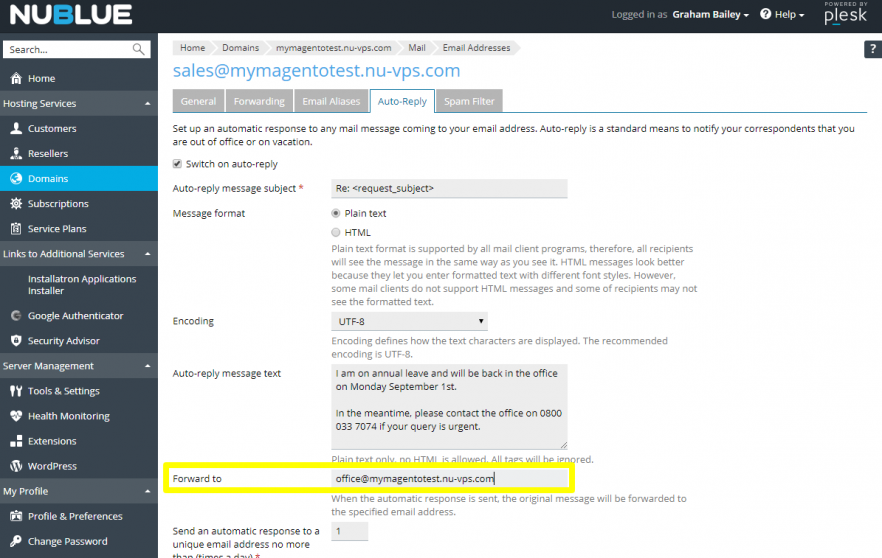 You can even use the settings in this menu to limit the number of times your automatic response is sent to a single email address and schedule when to turn off the auto-reply function. Set this for after your annual leave finishes!
Click OK when you've finished creating your message.