So much eCommerce content focuses on conversion, design and everything that directs a potential customer to purchase. However, this is just one part of the customer journey, so today we're looking at how to improve customer experience after a purchase has been made.
If you're looking to feasibly offer shoppers the delivery options they demand, improve shipping processes or perfect your fulfilment operation, this is the article you've been waiting for.

Two key questions eCommerce businesses often have is 'how can I reduce carrier costs?' and 'how realistic is it to offer shoppers the delivery options they demand?'. Shipping experts Temando argue that if you want to be ahead of the game, you need to be doing this.
After introducing shipping options at checkout, according to Temando's State of Shipping in UK Commerce report, 32% of retailers stated they had improved customer experience with the better shipping choices and 37% of enterprise retailers had reduced cart abandonment. So, if customer satisfaction is at the top of your list, shipping should be as well. At the end of the day, most shoppers don't discern who they buy from as long as their shopping experience is convenient and personalised to them. To achieve this; retailers must learn to treat shoppers like friends.
32% of retailers stated they had improved customer experience with the better shipping choices and 37% of enterprise retailers had reduced cart abandonment.
Don't let shipping be your weakness in building relationships with consumers. Limiting them to one standard delivery service is not great, especially when they can easily jump to your competitor's store to get the same products more quickly. Up to 58% of shoppers will abandon cart and buy from a competitor if shipping options are unsuitable. Elevate their experience with relevant delivery options that cater to their individual needs. For example, did you know Gen Z shoppers are the biggest fans of hyper-local (1-3 hours) and same-day delivery, while Baby Boomers tend to favour click-and-collect?
You would expect your friends to confirm that they're coming to brunch or let you know if they're running late, so why should it be any different with online order deliveries that you PAY for? Don't leave customers second-guessing when their package will arrive or expecting them to contact you for status updates, it shows that you respect their time.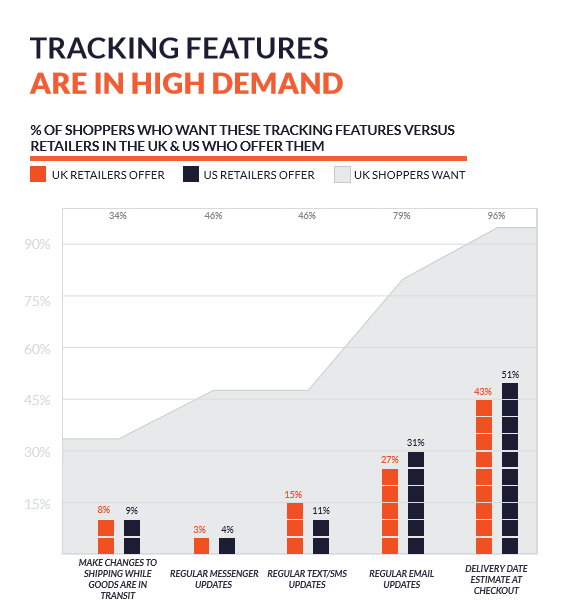 Delivery date estimate at checkout is a tracking feature almost every consumer wants, but regularly don't see – UK retailers are lagging behind the US on this offering alongside a range of other in demand requests. Anticipate their needs by providing tracking information that they can easily access on their devices so they know you're dependable – what's more keep marketing happy and make sure these messages are coming from you NOT the carrier.
It's OK to Change Your Mind
Things go wrong, but life goes on. While this approach may apply to many things that are out of our control, it shouldn't be the case when it comes to how customers feel about orders they no longer want. By holding them hostage with a complicated returns process, it's unlikely they'll choose to shop with you again in the future –we know acquisition is far more costly than retention. Give customers the freedom to shop with confidence by offering an easy returns process with returns shipping options on a customised portal, and use this extra touchpoint as an opportunity to build brand loyalty and upsell opportunities.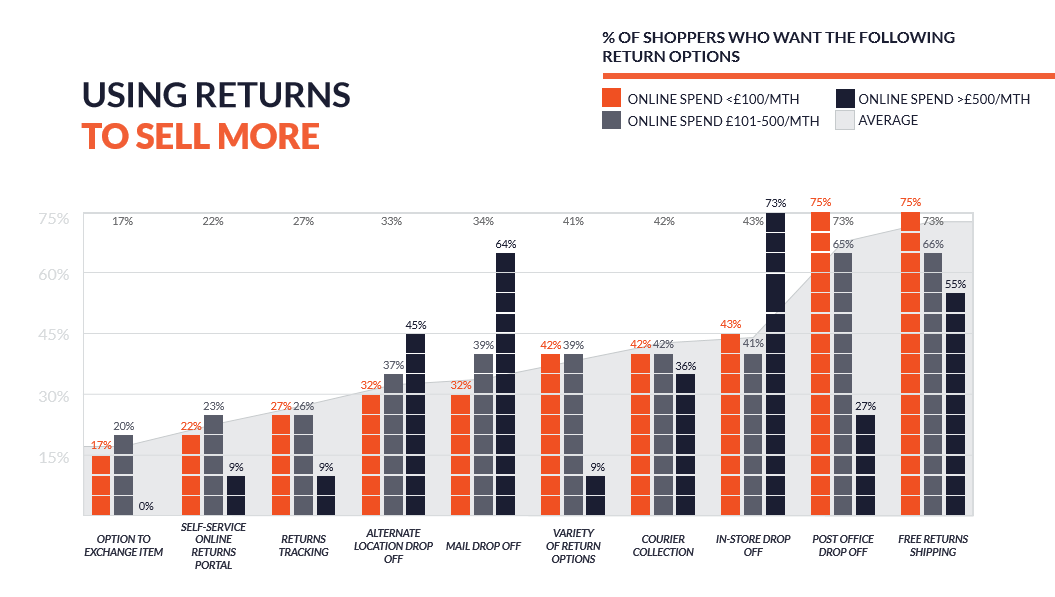 While free returns are important to low spenders, high value consumers are more interested in instant gratification through instore drop offs. The latter behaviour opens up the opportunity for multichannel retailers to encourage more spend in their physical stores.
B2B
Next up we asked our partner Aheadworks to help us out with some expert advice on B2B order fulfilment and shipping, here's what they had to say…
The first step towards effective B2B fulfilment & shipping is a correct and meaningful system of measurements and benchmarks a merchant and the whole supply chain needs to follow anytime and under any conditions.
Priority number one, on time and in full deliveries. Although this seems an obvious one, it can be hard to maintain, which means minimising potential errors in your delivery path.
Start with Warehouse Management, a lot of wholesalers stock their products in multiple warehouses located separately and inventory management becomes complicated as a result. Dedicated software makes it possible to process orders in real time and keep stock instantly up to date. Doing this can optimise shipping time and costs.
However, the most important tool in your fulfilment arsenal is communication. Powerful software will certainly help and enables you to organise things more efficiently but is not enough to create perfection – sometimes hurdles and pitfalls are unavoidable. In this case it's vital that your customer is completely in the loop.  24/7 customer service (where possible) along with swift and competent responses will help ease the frustration of any fulfilment issues for your customers.
What are the benefits?
We've looked at ways to improve your shipping & fulfilment, whether it's B2C or B2B. However, a faster, more efficient fulfilment operation can take time and effort to create and maintain, especially if your staff are used to working in a certain way. So what makes it worthwhile? We asked omnichannel retail management system Brightpearl to elaborate.
The more effective you are at getting orders out of the door, the cheaper it becomes to process each one.
More sales
By improving your fulfilment processes and getting shipping orders out of the door faster, you instantly open up your customer base to those who won't settle for less than expedited shipping. Furthermore, you will be able to make your order cut-off times later, capturing the attention of even more buyers you may have originally missed.
Reduce costs
The more effective you are at getting orders out of the door, the cheaper it becomes to process each one. You should also see a reduction in errors and mispicks, reducing the need to reship orders, thus, saving you even more money.
Improve customer satisfaction
Faster dispatch confirmation emails and shipping will greatly improve customer satisfaction levels and how they feel about your brand. Furthermore, by fine-tuning your fulfilment workflows, you reduce the risk of double selling, which instantly affects customer satisfaction as well.
Save time
By taking the time to fine-tune your processes in the beginning, you can spend more time on actually growing the business later on. This is something which sounds so simple, yet is often overlooked in the pre-planning of a system. You'd be surprised at just what you can get done in the time you'd normally take to either fulfil orders manually, or to resolve issues and complaints.
"The Virtuous Cycle"
Known as "The Virtuous Cycle", once the planned benefits above are achieved, a retail business begins to see unplanned benefits. And these unplanned benefits cycle back around to the fulfilment or distribution teams to result in even further benefits for the business as a whole. For example, consider a fashion retailer that has made an investment in its distribution and fulfilment centres to reduce their order fulfilment latency. The planned benefit was the fulfilment centre provided a better service to its various retail branches. But due to this better service, each store was able to keep less "safety stock" as they knew stock would be replenished quickly. Therefore, these stores were able to make room on their shelves for differentiated products, resulting in more sales and a more diverse clientele. These are the unplanned benefits.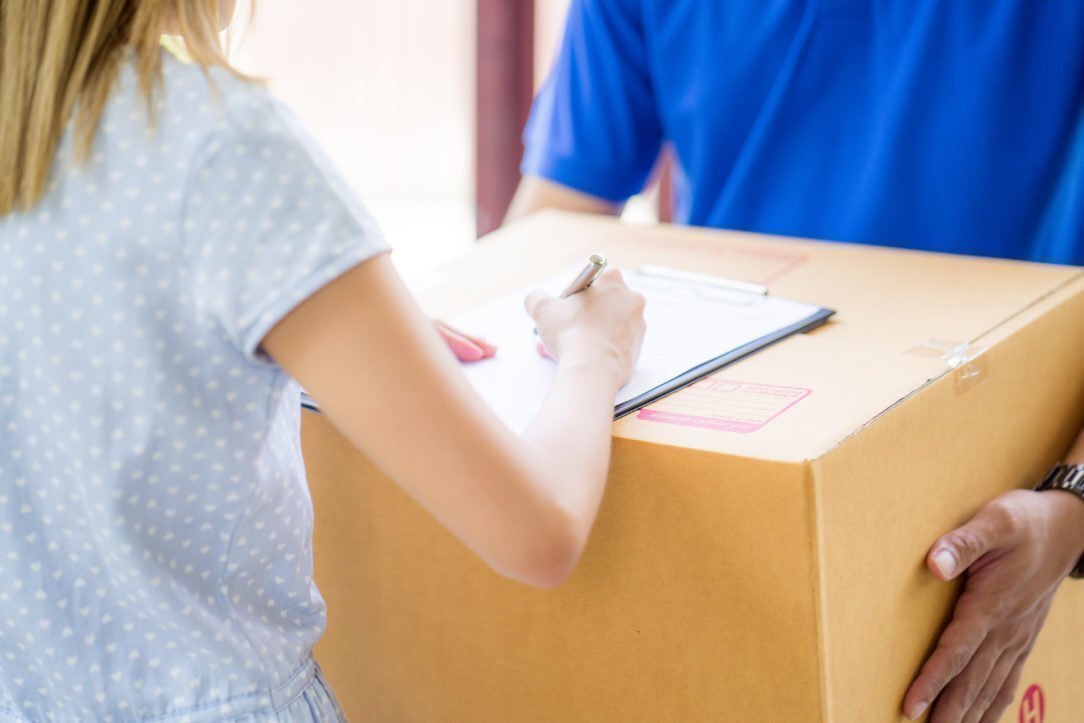 Advice for Effective Order Fulfilment Operations
It's pretty clear just how important an effective order fulfilment operation is to any growing retail business. This is all great. But how exactly do you achieve effective fulfilment? We could come at this from a few different angles, but one proven way to improve fulfilment is in introducing automated processes and efficient technology.
Automation Tools and Bots
First, let's consider a typical order fulfilment workflow for an order placed online:
Your customer places an order with you via your website or online marketplace. This triggers an email to your customer confirming their order.
The order arrives in your order management software, awaiting allocation, fulfilment, shipping and invoicing.
The stock on the order is reserved or allocated, and the order is then fulfilled.
The warehouse team physically pick and pack the order.
The order is shipped, and a dispatch email is sent to the customer.
The order then needs to be invoiced and marked as paid (if not already done).
Within this workflow, there are a few different places where automation tools and bots can be used:
Stock could be auto-allocated on the sales order based on your inventory levels.
The order could be auto-fulfilled, automatically notifying your warehouse team of an order that needs processing.
Order confirmation and dispatch emails can be automatic, based on your website or marketplace settings.
And the order could be automatically invoiced based on the payment and shipping status.
Whether you choose to automate a single part of your fulfilment process or multiple parts, your team are bound to save time. However, when introducing automation to your business, there are a couple of things to consider:
Inaccurate inventory data: The time lost recovering from improperly routing an order based on inventory discrepancies between your order management software and physical inventory stores can be huge. When automating and managing only by exception, you need to ensure your inventory data is accurate to prevent double selling or false dispatch emails from being sent. This is where regular cycle stock counts are useful, ensuring your stock levels are always accurate.
Third party teams: In the case of orders being automatically fulfilled incorrectly, if your third-party teams lack context for these orders, then they may start shipping items immediately without thought. It's important to work with your third parties and ensure they understand your new automated processes from their side as well. Perhaps an extra approval status or step could be implemented.
Integrated Shipping 
There are a number of companies out there that claim they can integrate various shipping couriers, such as Fedex, UPS and Royal Mail with your order management software.
Effectively, these services allow your warehouse team to scan barcodes on items whilst they're packing, with the integrated shipping provider sitting as a middle-person between them and the courier. The shipping provider automatically sends details of the scanned order to the courier, whilst then sending a shipping label back to the warehouse team to be used on the package. This ensures your warehouse team doesn't need to worry about manually sorting the shipping label themselves, ultimately saving time as well as the team's sanity!
Measuring the Effectiveness of Your Order Fulfillment Processes
There are key metrics you should use to assess how performant your fulfilment operations are now, and after you've made changes. Some important metrics to track include your:
Perfect Order Rate
Your Perfect Order Rate measures how well your operational processes are faring against customer-centric goals. This KPI helps to identify whether your customers are receiving the correct products as well as in the condition and time frame that has been promised to them. It's an important metric to keep on top of, as businesses with higher perfect order rates typically see more repeat business and faster growth.
For most businesses, an order is 'perfect', if it:
Leaves your warehouse on time
Reaches your customer on time
Contains the correct products
Doesn't result in a return
Has zero negative financial events, such as chargebacks or fraudulent payments
Use this equation to calculate your Perfect Order Rate:
Total Shipped Orders - (Total Imperfect Orders) / Total Shipped Orders) = Perfect Order Rate
Processing Cost per Order 
Processing Cost per Order measures the efficiency of your warehouse and order processing in relation to your revenue. Effectively, the faster you ship orders, the cheaper it is to ship each individual order.
Use this equation to calculate your Processing Cost per Order:
Processing Cost per Order = Cost of Operations / Number of orders
The cost of operations should include both your fixed costs, such as warehouse rent and your variable costs, such as packaging.
Order Fulfilment Latency
Order Fulfilment Latency is the time it takes for an order to be received by your customer from when they placed the order and is usually calculated in business days.
Although there are few benchmarks here, the best way of seeking positive customer satisfaction is by ensuring the wait from when an order is placed and received is as short as possible.
Inventory Turnover
Inventory turnover measures how many times a year your business is able to sell its entire inventory. This is an important indicator of how much demand there is for the products you stock, and if your purchasing habits are effective. Typically, the higher your turnover rate, the better.
Use this equation to calculate it:
Inventory Turnover = Cost of Goods Sold / Average Inventory
With effective fulfilment operations bringing a number of benefits to any growing retailer, and the fact that automation has made it easier than ever before to achieve fast fulfilment, there really should be nothing holding you back from analysing and improving your own processes.