User-generated content is content that's been created by your customers in the form of pictures, videos, testimonials, social posts or anything else that could be shared to promote your brand for you. It has been shown to increase conversions and strengthen consumer trust in your brand; to find out how we've teamed up with some of our valued partners to discuss how you can make the most of the content your users create for you.

What makes User-generated Content (UGC) so important for ecommerce businesses?
You've got a great brand; your products are the best in the market, and your customer service is first-class. You've invested thousands into innovative marketing and PR strategies that shout about it, but you're struggling to achieve the ROI you predicted. Unfortunately, you may have created an impersonal monster – a one-way conversation between your brand and the consumers you're trying to reach.
Thankfully, it's easier than you may think to turn customer relationships into a two-way conversation. By collecting and showcasing UGC, you give consumers the chance to not only have their say, but to also hear from real customers and find out about their experience with your brand. According to  findings, 90% of consumers state that user-generated content has an influence on what they buy.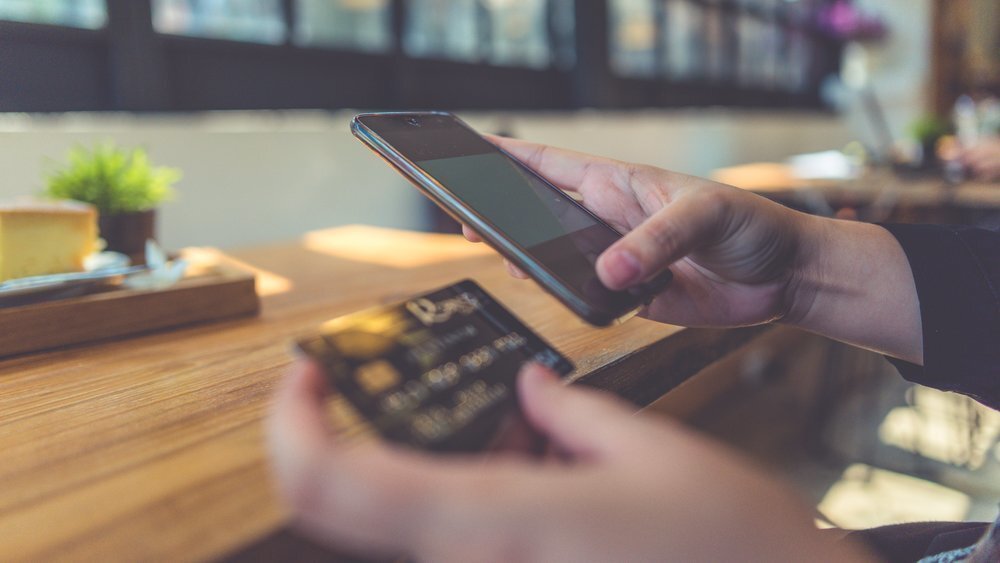 User-generated Content can include anything; product or service reviews, videos, photos, blogs and any social media content. The one thing they all have in common is that they are all crafted by a consumer. This type of content is crucial to any brand's marketing strategy and will provide you with a wealth of benefits, including:
Creating trust and strengthening customer relationships– 92% of customers trust UGC more than traditional forms of advertising. A customer is more likely to choose you over competitors if you can bring your brand to the real world and show authenticity through real customer experiences.
Increased engagement– UGC is proven to get more engagement with your brand than other forms of marketing. This is especially true when it comes to visual content, with videos being shared 1200% more times than links and text combined.
Boosted SEO – UGC provides fresh content for your website. It's a great way to enhance your SEO and organic traffic.
Cost efficiency – Using user-generated content as part of your overall marketing plan is a low-cost way to reach more consumers. When used within PPC ads, UGC increases click-through rates and lowers the amount you spend on paid campaigns.
Increased sales –By optimising each customer touch point with UGC, you'll increase customer confidence which in turn can increase conversions and sales. Feefo have seen conversion rates increase by 6% when customer ratings were placed next to the 'buy now' button.
To see the benefits of UGC, it's important to actively encourage your customers to engage with your brand and to use the content you receive as many ways as possible. Here are the best ways to make the most of UGC:
Engage with each customer who engages with you – Acknowledge every customer that interacts with your brand and use the best UGC to create authentic social, content marketing or PR campaigns.
Use the information you receive to make smarter decisions – UGC provides first-hand insight into what your customers think of your brand. You can use this information to segment and understand your customers, helping you make smarter business decisions in future.
Alongside the fantastic benefits mentioned here, UGC can also build your market reputation. Our partner Trustpilot explains more…
Collecting reviews and displaying them is a powerful way to capture user-generated content can be used to your advantage. A Brightlocal survey found that 84% of people trust online reviews as much as a personal recommendation and 58% consider a star rating the most important element of a business. The same survey found that almost 70% of consumers felt they needed to read over 4 online reviews before they can trust a business.
Boosting SEO and engagement figures are an integral goal for any decent marketing campaign due to the positive effects these can have on click through and conversions. This means your market reputation, which customer reviews will influence, will be a deciding factor for potential customers clicking through your website.
92% of customers trust UGC more than traditional advertising
So, How do you get users to interact?
It's all well and good knowing the benefits, and it's clear that getting customers to interact is now necessary, not just for marketing purposes, but to stay competitive in the ever-growing ecommerce industry. However, there are some best practices companies can follow when it comes to engagement and gathering UGC.
Consistently asking for reviews
It sounds straight forward but it's a surprisingly underutilised technique. Trustpilot found that companies who did not proactively collect reviews, on average, received a 50% split of negative to positive reviews. Companies that proactively asked for reviews, however, on average, received 83% positive reviews and only 17% negative reviews. When people have bad experiences they're more likely to leave a review so, according to the data, by asking all of your customers for a review you're increasing your chances of getting positive feedback.
Whilst on the topic it's worth mentioning and an important point here. Do not remove negative reviews from your site.
Reviews are a sign of trust and reputation and should be treated accordingly. If you delete negative reviews and every review left on your site is a stellar five-star rating, potential customers may be wary and potentially lose trust in your company. Leaving negative reviews on your site is not only the honest thing to do, it provides an opportunity to showcase your customer experience.
Encourage and reward UGC
Incentivisation is a superb way to get anyone to do almost anything (within reason). The same applies when trying to get users to contribute content to your ecommerce site. Implementing a loyalty program on your store is a fantastic way to both encourage and reward UGC and ultimately increase customer engagement rates. Our partner LoyaltyLion (engagement and customer loyalty experts) were approached by The Chive as they wanted to increase customer loyalty and engagement. Here's what happened…
The Chive were looking for a solution that would go beyond rewarding just purchases, particularly since they have such a highly social customer base. LoyaltyLion created a bespoke loyalty program where their store was integrated with their blog. Essentially, this enabled The Chive to 'gamify' their entire blog and reward customers for over ten onsite activities including photo uploads, comment submissions, scoring and social sharing. This made their blog a much more engaging and entertaining place for a customer to interact with.
With a young and socially active customer base, gamification has been hugely successful for driving engagement, with loyalty points displayed on a leader board which ranks the 'Chivers'. By rewarding fans with loyalty points for simple UGC activities, The Chive is incentivising active customer participation and boosting customer engagement with the brand. This has led to 47% lift in engagement and $135k monthly revenue from purchases using loyalty rewards.
Of course, incentivisation can be a much simpler process and when starting on your UGC journey you may want to invest a smaller amount of time and resources to get your feet under the table. As touched on previously, something as simple as asking your customers for a review can be hugely successful in getting your customers to engage. However, in cases where users are playing a little harder to get, consider giveaways and prize draws to reel them in.
Make it easy
At Nublue it seems obvious to us that if you want users to leave a review, make a comment or upload an image etc. then this needs to be easy to do. You're ultimately asking them to go out of their way and do something that will help your business – albeit under the guise of something fun, helpful and a little social. Similar to how you treat a path to purchase, ensure that the journey a customer has to take to leave UGC is simple, unconvoluted and self-explanatory. If you're offering any kind of reward, make it really clear and make sure any forms, upload pages or similar work smoothly and as intended.
In a recent consumer report carried out by Feefo, 46% of consumers say that they would be motivated to leave a review if they were prompted by a personal invitation from a company. To maximise responses, you should invite all your genuine customers by email or SMS to leave a text, video or photo review in a few simple steps. By prompting your customers in this personal way, you can build your market reputation while making it easy for your customers to give you user-generated content.
Rewarding these UGC activities amongst others has seen The Chive enjoy a 47% lift in engagement and $135k monthly revenue from purchases using loyalty rewards.
Inspiration
You now know why you should be using UGC and hopefully we've given you some food for thought on ways in which you can start generating it. Now let's look at getting those creative juices flowing with some examples of how other companies have thought outside the box and tackled the creative problem. We asked another of our partners, UGC experts and review platform Yotpo to explain further.
Tottenham Hotspur Football Club
Having a communal space online was crucial for the Tottenham Hotspur FC. As a sports team, they naturally have a community of fans. When they launched their online team merchandise shop, they needed to provide a space for those fans to communicate with one another about the products.
To get fans into the team spirit, Tottenham customized their on-site reviews widget in grey and navy blue. Details like this enhance customer identification with your brand. In addition to their customized widget featuring both reviews and customized photos, they also request and feature customer feedback on fit, shopping experience, and shipping.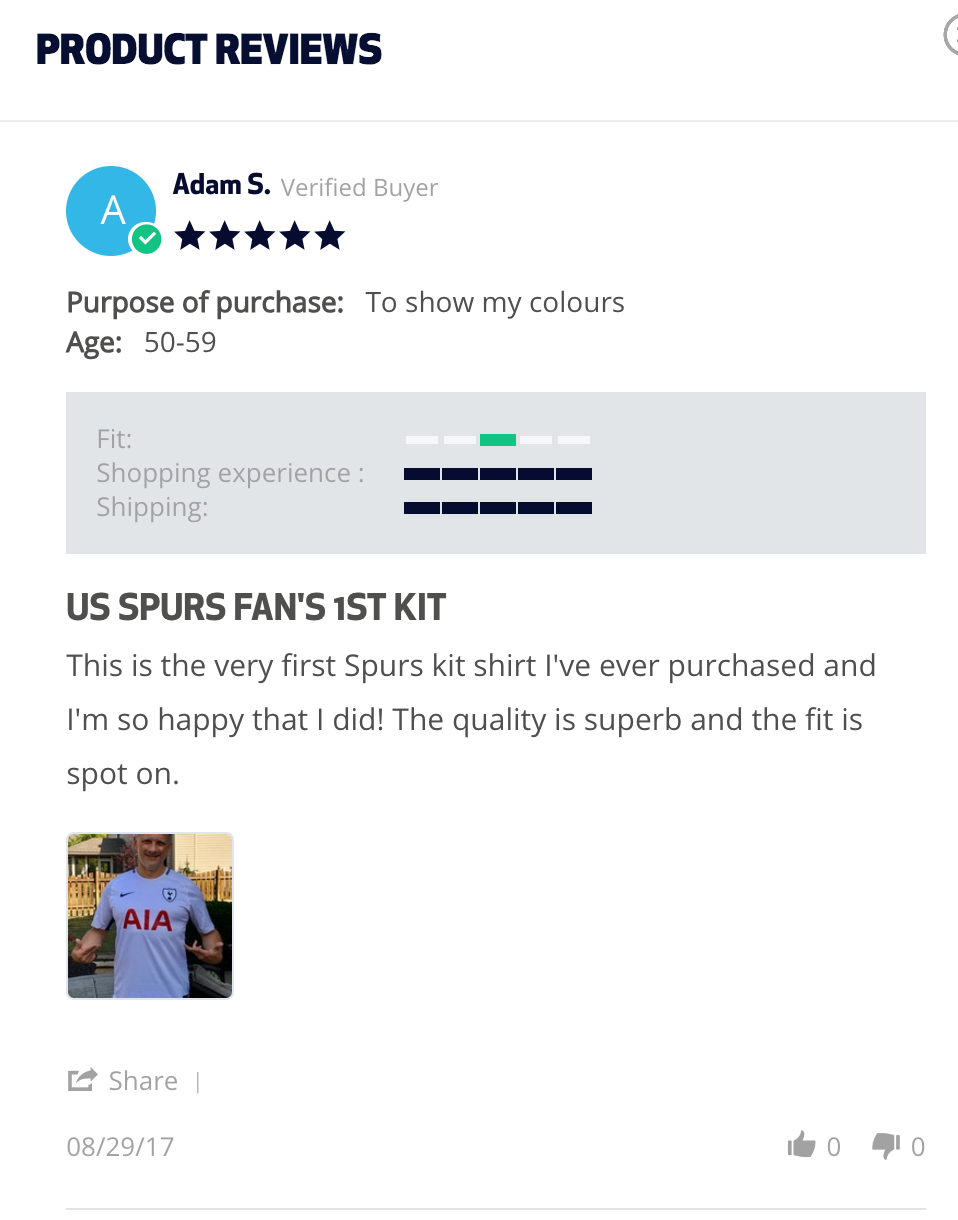 This information is a great way for shoppers to get an overall understanding of what to expect when purchasing from the site, helping eliminate purchase anxiety. "Service" and shipping" are among the words that come up most often when fashion shoppers discuss their customer service experience, so Tottenham directly addressed the issues most important to potential customers. When shoppers know your service is as great as your products, they're more likely to buy.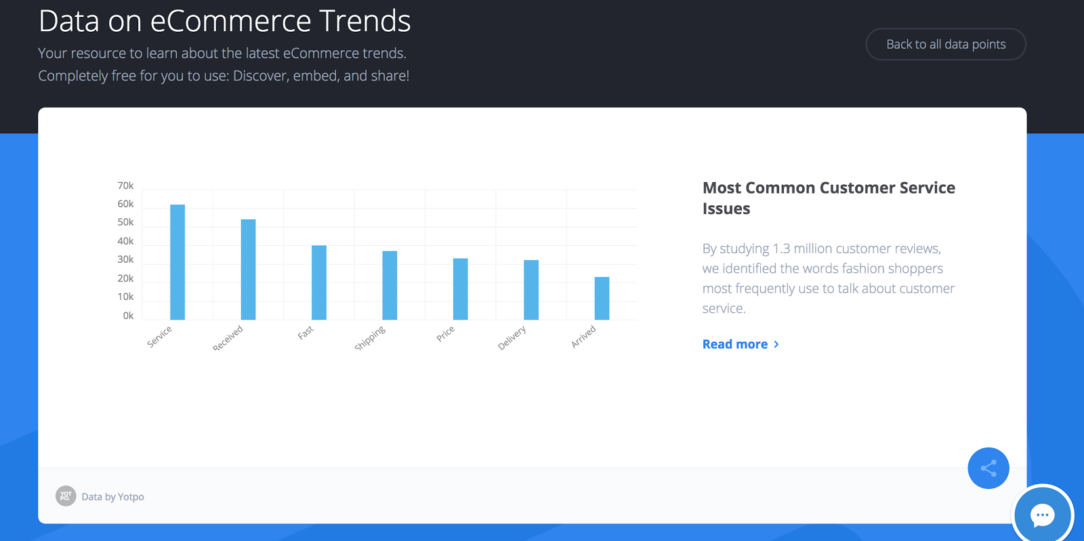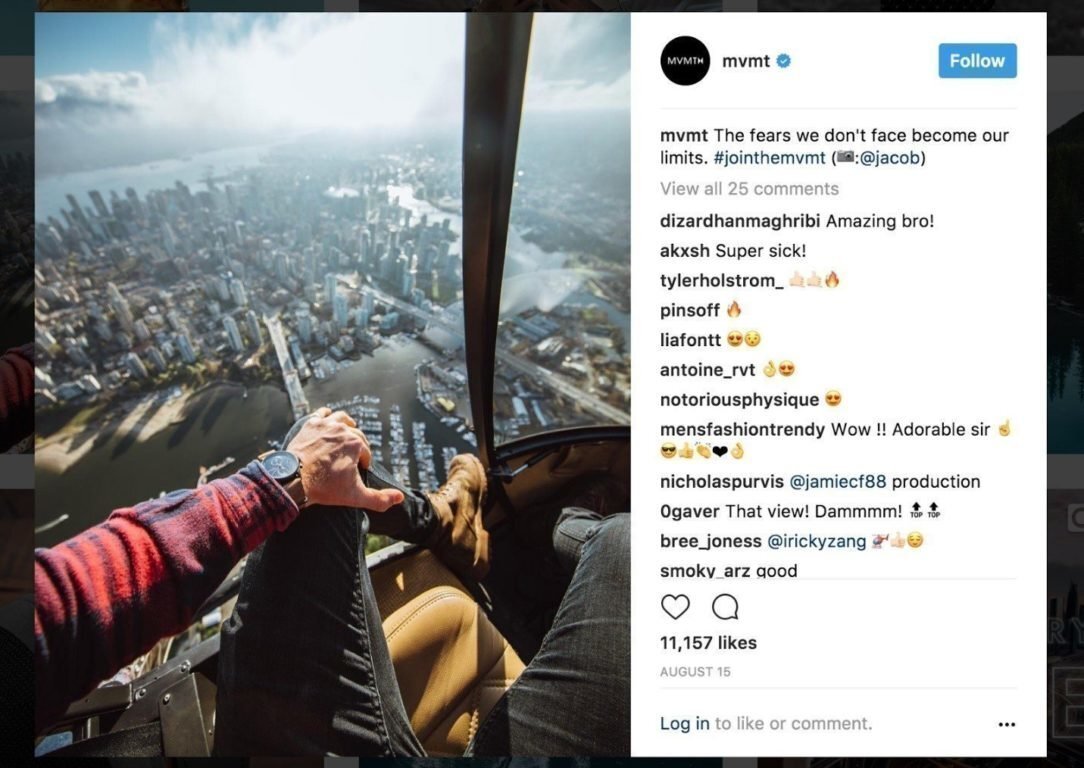 MVMT
MVMT disrupted the watch industry with high quality watches that don't break the bank. Their direct-to-consumer model allowed them to slash prices, and with the help of user-generated content, they built a community of customers who believe in their brand.
They were able to collect a mountain of customer reviews and ratings with Yotpo's smart review request emails and on-site widget, and all that social proof assured new shoppers that MVMT's products wouldn't disappoint. In fact, shoppers who see UGC covert 161% more than those who don't see it.
As their early customers spread the word and their community of brand advocates grew, MVMT recognized the full power of user-generated content. Now, as an established brand, they continue to spread the word with UGC.
Shoppers who see UGC convert 161% more than those who don't see it
They even launched a #JointheMVMT campaign on Instagram, asking customers to post photos featuring their purchases for the chance to win a giftcard. There are more than 57,000 posts with the campaign hashtag, meaning that their brand was featured on thousands of social feeds. That's a lot of engagement and exposure to like-minded audiences, all without tapping into traditional advertising. Also, exposure on Instagram counts — Instagram traffic spends almost twice as long on site as traffic from Facebook.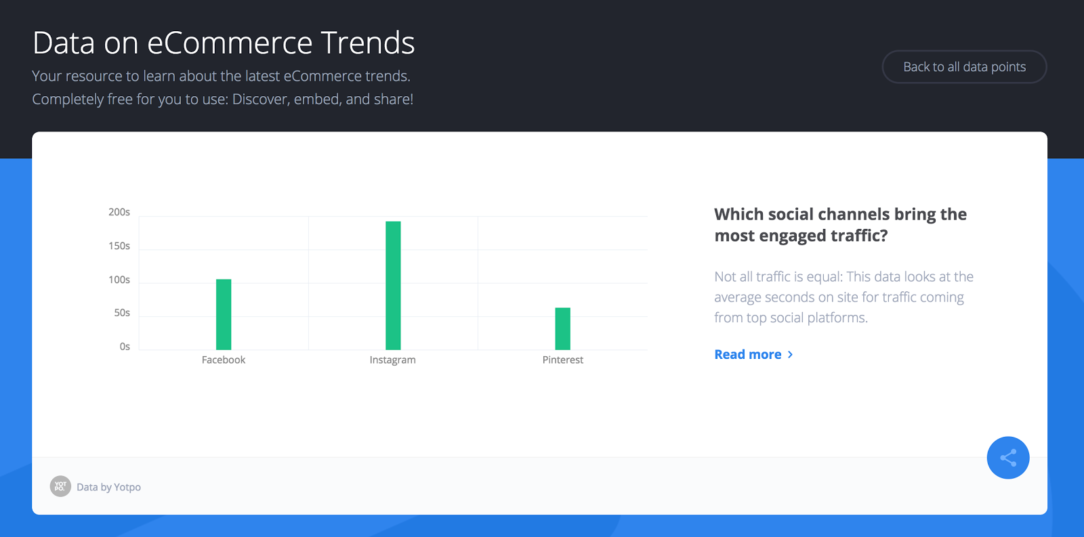 To see the benefits of UGC, it's important to actively encourage your customers to engage with your brand and to use the content you receive as many ways as possible.
Vanity Planet
Next up is Vanity Planet. Like MVMT, they were quick to catch on to the importance of UGC in building and growing a community of loyal customers. Loyalty is key both for brand longevity and for revenue, since the customers who come back again and again spend 3x more than one-time shoppers.
On top of Yotpo's reviews, ratings, Q&A, and photos, Vanity Planet also runs a loyalty points program that rewards customers for UGC, including writing reviews and sharing posts on Facebook.
While considering adding customer photo galleries to their product pages using Yotpo's Social Curation tool, Vanity Planet also ran a test campaign.
Their A/B test tracked visitors on a product page with and without customer photos. These included photos curated from Instagram, as well as those uploaded by customers alongside their reviews.
The test ran for 10 days with almost 6,000 visitors tracked. The page with the photos outperformed the original, and the number of visitors reaching the checkout page from the product page increased by 24%.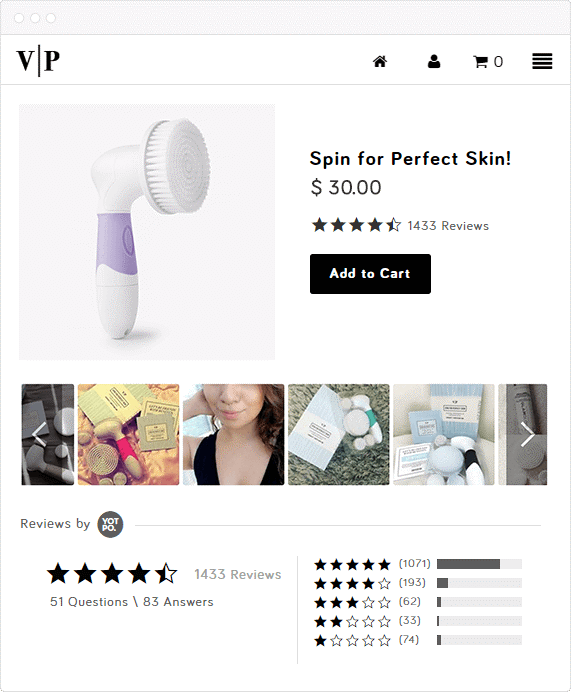 The test confirmed that shoppers are looking for more than professional product photos. They want authentic photos featuring people they can relate to — making user-generated photos the obvious choice. This also rang true in a Yotpo survey of 1,000 eCommerce shoppers, where 77% said that customer photos affect their purchase decisions more than professional photos from stores do.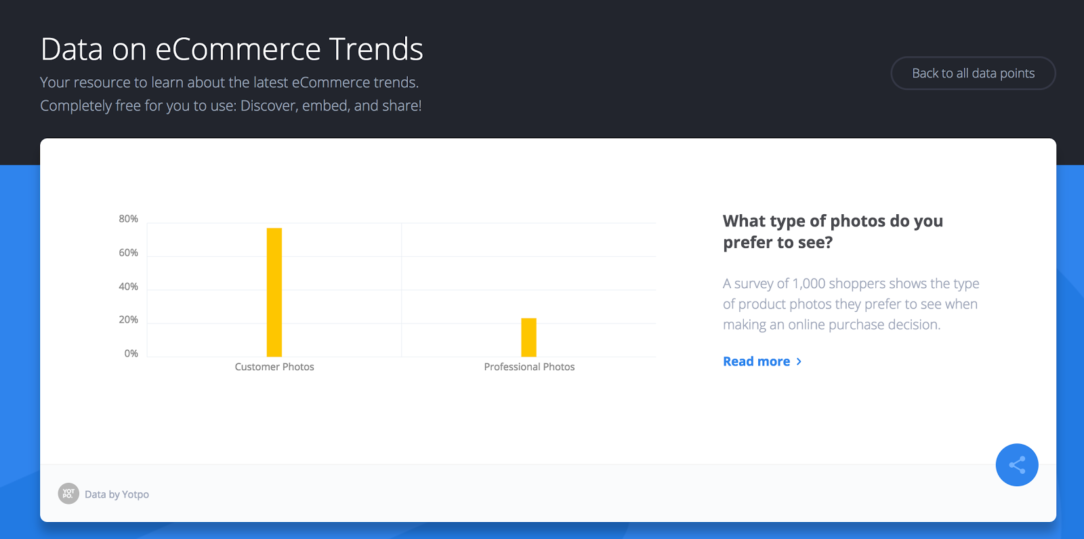 Even as photos become more popular, text is still the number one influencer in purchase decisions, according to 43% of shoppers asked in a Yotpo survey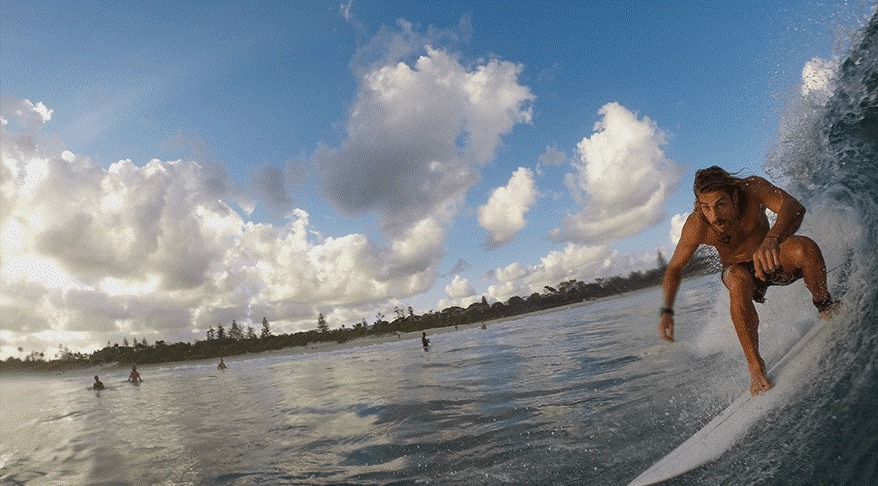 Authentic customer moments have a ripple effect not just in the Health & Beauty industry, but also across all types of eCommerce businesses. GoPro had a similar idea, but instead of photos, they put their product to the test and had customers film and share videos from their own GoPro cameras.
On their GoPro Awards page, the action camera brand asks customers to submit and edit clips for a chance to win a cash reward. Not only that, after encouraging customers to tag Instagram images from their GoPro cameras, there are more than 31 million posts tagged. These ongoing campaigns create a sense of community as customers share their experiences through user-generated content.
Community plays a major role for GoPro: In their first year with Yotpo, they collected over 8,000 reviews, but made a point to publish only the most informative ones. Even a 5-star review with just a couple of words didn't make the cut.
The goal was to have the reviews serve as a place for customers to share and learn about the products, by giving them content they actually want to read. This sort of investment in reviews is crucial. Even as photos become more popular, text is still the number one influencer in purchase decisions, according to 43% of shoppers asked in a Yotpo survey.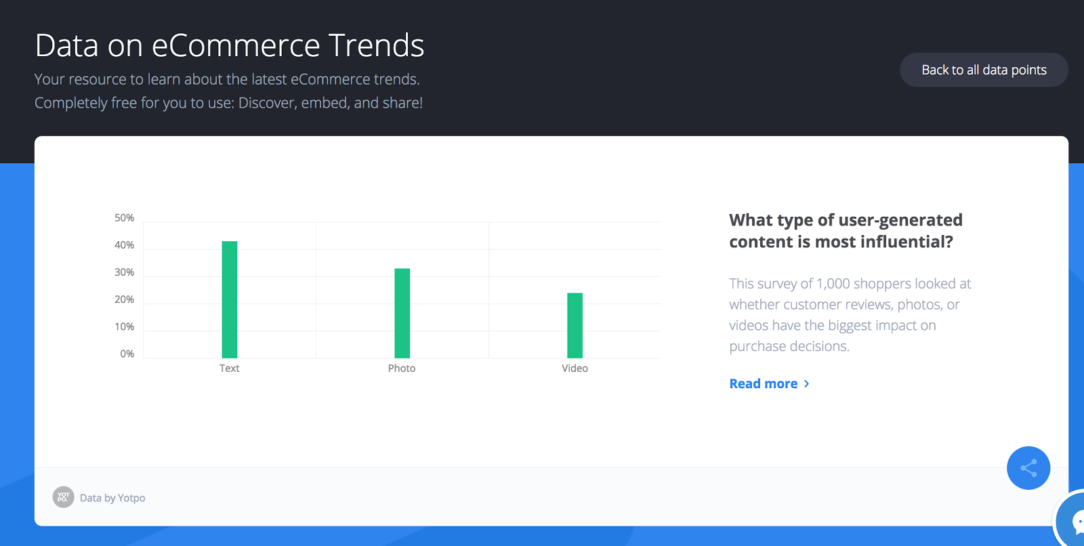 The take-home
As you've read, UGC can be leveraged towards measurable and impactful improvements. Not only does it provide a more authentic way of marketing your company, it also affects the KPIs that really matter to any eCommerce companies such as conversion, click through rate and revenue.
Just as importantly, UGC also provides a rare window into customer feedback, allowing you to not only showcase how brilliant your company is but also address a customer's bad experience and turn it into a good one (for them and for future customers).
By choosing the right way of collecting UGC, you're making an investment in your company and positioning yourself as a business with its customers in mind – something that improves trust, reputation and that most important of ecommerce measurables: conversion.